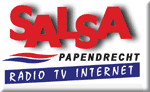 Ondertussen waren wij in contact met mensen, die de Lokale omroep van Papendrecht hadden opgericht Radio Salsa omroepstichting (een oud-piraten collega Salsa Radio).
Hun visie lag meer in ons "straatje", ook omdat wij dezelfde piraten achtergrond hadden.
Alleen vergde het wel wat overredingskracht, om het bestuur en programmaraad van onze muziekstromingen te overtuigen dat hiervoor weldegelijk animo was. Na enige "bedenktijd" van de Radio Salsa programmaraad, kregen wij een positief antwoord en een vaste plaats in hun programmering met twee uur zendtijd.
Ons trendsettende disco import programma CLUB 88 was een feit. Waarin muziekstylen zoals: house, hiphouse, acid house, dance, trance, rap, newbeat en techno werden gedraaid. Live mixen werden door onze eigen deejays gemaakt en er kwamen live in de studio ex-deelnemers van toendertijd populaire mix & scratchwedstrijden (avro's 3x doordraai) ten gehore brengen.
Deze Papendrechtse omroep is nu nieuw leven ingeblazen onder de stationsnaam RtvPapendrecht.

Er wordt nog steeds druk achter de (TBC) schermen om deze website te onderhouden en te updaten.. We are still working very hard to improve and update this (TBC) website.. continuously.